Sports Trading Cards UK
2020 Topps Heritage Baseball Fat Pack
Returning for its 20th season, 2020 Topps Heritage Baseball celebrates modern Baseball stars and legendary talent using the iconic 1971 Topps Baseball design.
Collectors can look for Real One Autographs, Chrome Base Card Variations, Clubhouse Collection relics, 1971 Topps Scratch Offs and more!
Base cards
500 cards of MLB® veterans and 2020 rookies using the 1971 Topps Baseball design. Cards 401-500 are short printed (1:3 packs)
Base Card Variations
Throwback Uniform Variations
Mini Base Variations – Numbered to 100
Plus Other Surprises!
Base Card Chrome Variations
Highlighting 100 base card subjects on Chrome. Limited.
Refractor Parallel - #'d to 571.
White Bordered Parallel - #'d to 71.
Superfractor Parallel - #'d 1/1.
Hot Box Refractor Parallel – RETAIL VALUE BOX ONLY.
Autographs
Real One Autographs
Current and Retired greats sign directly on-card in blue ink. Select subjects will be players whose last cards were found in 1971 Topps Baseball.
Real One Special Edition Autographs
Signed in red ink and hand-numbered to 71 or less.
NEW! Senators™ Final Season Autographs
Retired players from the 1971 Washington Senators ™ sign on-card autographs in blue ink. Limited to 100 or less.
Autograph Relics
Clubhouse Collection Autograph Relics
Active and retired Baseball players sign on-card alongside a piece of game-used uniform or bat.
Hand-numbered to 25 or less.
Clubhouse Collection Dual Autograph Relics
Pairs of notable Baseball names with on-card autographs and game-used memorabilia from each adorn these cards.
Hand-numbered to 10 or less.
Flashbacks Autographed Relics
Players who had remarkable performances in the 1971 MLB® season are celebrated with on-card autographs and game-used memorabilia cards
Hand-numbered to 25 or less.
Relics
Clubhouse Collection Relics
Game-used uniform and bat pieces are highlighted alongside the featured player.
Gold Parallel – numbered to 99.
Clubhouse Collection Dual Relics
Hand-Numbered to 71.
Clubhouse Collection Triple Relics
Hand-Numbered to 25.
Clubhouse collection Quad Relics
Hand-Numbered to 10.
20 Gigantic Seasons Buybacks
Original Topps-issued Wille Mays cards from his time on the Giants® are inserted with a special commemorative foil stamp.
1971 U.S. Postage Stamp Relics
Stars of 1971 and stamps issued in 1971 share a card.
Numbered to 50.
1971 Baseball Cut Signatures
Featuring memorable names from the MLB® in 1971.
Numbered 1/1.
1971 Celebrity Cut Signatures
Notable names from pop culture and newsmakers.
Numbered 1/1.
Inserts
New Age Performers
25 of the league's biggest stars.
Then and Now
Players from 1971 and 2020 have their stats compared.
Baseball Flashbacks
Highlights from the 1971 MLB season.
News Flashbacks
Notable newsworthy events from 1971 are captured.
20 Gigantic Seasons
Celebrating Willie Mays' 20 seasons with the New York and San Francisco Giants®.
1971 Topps Baseball Tattoos
Sheets containing tattoos mimicking the original 1971 offerings with contemporary players and teams. Limited to 200. RETAIL ONLY. 
Sale price

$9.00

Regular price

$11.00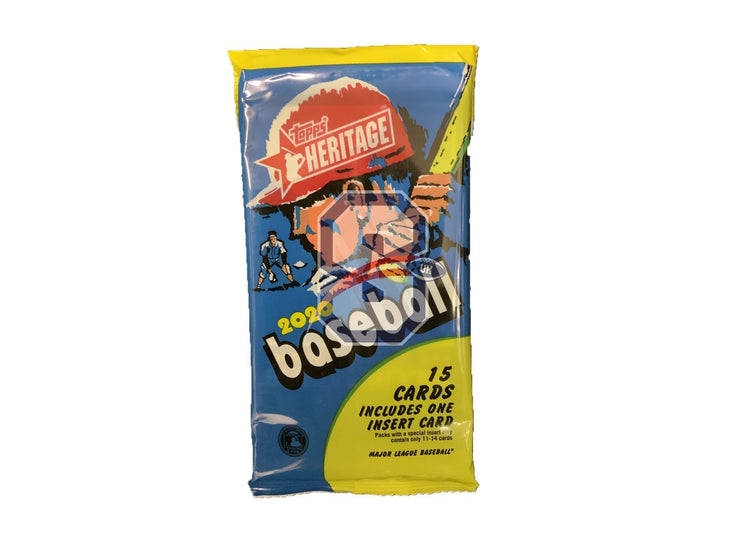 Delivery Info
Royal Mail
Spend up to £49.99
£3.49 Royal Mail 24 (approx. 2/3 days)
£2.99 Royal Mail 48 (approx. 3/4 days)

Spend £50.00 - £249.99
£4.99 Royal Mail Tracked 24 (approx. 2 days)
£3.99 Royal Mail Tracked 48 (approx. 3 days)

DHL £6.99 UK (approx. 1-2 days)

FREE UK SHIPPING for orders £250 upwards



DHL Worldwide available at checkout for international customers - cost is for shipping only, any additional customs or local taxes are not included and are the receiving customers responsibility.