Sports Trading Cards UK
2023/24 Upper Deck Series 1 Hockey Tin
12 cards per pack.
8 regular packs + 1 exclusive Dazzlers Bonus Pack per tin.


•    Exciting Changes! We've made some exciting changes to the Upper Deck Series, and the Tin specifically, to deliver an even more compelling collecting experience! The changes:
o    Four (4) more cards per pack!
o    An improved insert-to-base card ratio in each pack. Each pack now contains three (3) inserts, on average.
o    At least one (1) more regular Young Guns® card per Tin! Each Tin now contains at least three (3) of the highly-sought after and iconic rookie cards.
o    The introduction of a stunning base set parallel, which also means more Young Guns® cards to chase!
o    A new bonus pack containing three (3) Tin-exclusive Dazzlers cards. Most bonus packs will contain three (3) Orange Dazzlers. Select packs will see one of the Orange versions replaced by either a Red version or an all-new Black version! 
•    Series 1 sports the first 250 cards of the 2023-24 Upper Deck base set. Annually, the Upper Deck base set is the most widely-collected base set in hockey. The set includes 198 veteran cards, 49 Young Guns® cards and three checklist cards. And as noted above, we've added a stunning base set parallel - Outburst Silver!
•    Fans and collectors alike will be blown away by the UD Portraits cards! The latest version of this classic insert portrays veteran stars and rookies like you've never seen them before! No two portraits are the same. Collect one (1) per Tin, on average. 
•    New Insert Sets! The latest edition of Series 1 sports an impressive lineup of new insert sets sure to please everyone, from the casual fan to the avid collector:
o    200' x 85': Each card in this set features a player (star veteran or top rookie) on a hockey rink backdrop - with both the player and the rink treated with Lite FX. Collect both one (1) regular version and one (1) Tin-exclusive Green parallel per box, on average!
o    Special Edition: Each card displays a current veteran star or rookie on an elegant design. Collect one (1) per Tin, on average.
o    Star Surge: This set showcases rising stars. Collect one (1) per Tin, on average.
o    Star Zone: This set is comprised of many of the veteran stars in the game today. Collect one (1) per Tin, on average.
o    Stat Box Fillers: The checklist consists of current stars that routinely fill up the stat sheet. Collect one (1) per Tin, on average, and look for rare Gold parallels!
o    Teacher's Pet: Each card in this fun set sports a player "report card" and highlights the skill for which each player in the checklist is best known. Look for one (1) per Tin, on average. In addition to the regular set, there is also a rare Gold parallel set.
•    UD Canvas®, a longtime favorite among collectors, returns featuring a collection of the top stars in the game today along with the best of the Young Guns®. Series 1 contains the first 120 cards of this intra-series set.
•    The popular Honor Roll® insert returns as well! This is an intra-series set and the checklist is comprised of only star veterans (collect rookies in Series 2!). Collect, on average, two (2) Honor Roll cards per Tin.
•    Formerly a rookie-only Tin exclusive, the popular and attractive OPC Glossy cards are now seeded into the regular packs. We've also expanded the checklist to include some star veterans. Collect two (2) regular OPC Glossy cards and one (1) Gold parallel per Tin!
•    Keep an eye out for regular (1 per Tin, on average) and Gold parallel Debut Dates cards commemorating the first game for 2022-23 and 2023-24 rookies!
PRODUCT BREAKDOWN
Content, including the stated checklist #'ing, card #'ing and ratios, is subject to change without further notice.
Additionally, this list may not contain all cards available in the product as there could be unannounced cards.
Exclusive Bonus Pack!
All three colors are Tin-exclusive and the Black versions are the first ever produced!
Card                                #'ing/Ratio
Dazzlers - Orange                        3:1 (2:1 when a Red or Black parallel card falls)
Dazzlers - Red                        1:4
Dazzlers - Black (New!)                        1:12
Sale price

$62.00

Regular price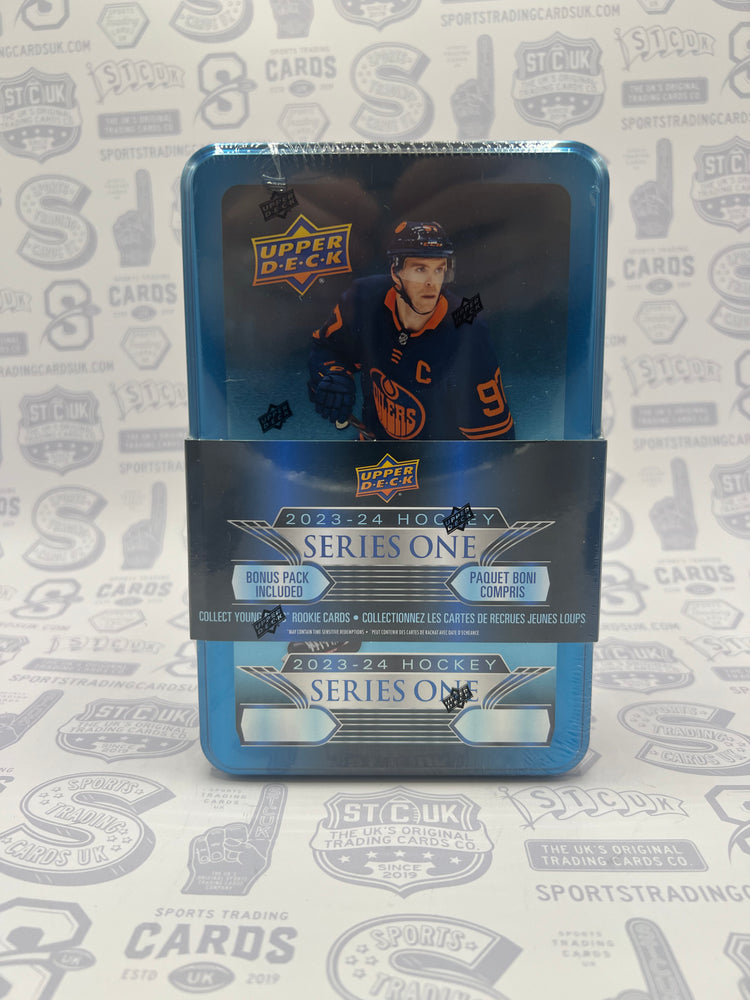 Delivery Info
Royal Mail
Spend up to £49.99
£3.49 Royal Mail 24 (approx. 2/3 days)
£2.99 Royal Mail 48 (approx. 3/4 days)

Spend £50.00 - £249.99
£4.99 Royal Mail Tracked 24 (approx. 2 days)
£3.99 Royal Mail Tracked 48 (approx. 3 days)

DHL £6.99 UK (approx. 1-2 days)

FREE UK SHIPPING for orders £250 upwards



DHL Worldwide available at checkout for international customers - cost is for shipping only, any additional customs or local taxes are not included and are the receiving customers responsibility.