Sports Trading Cards UK
2023 Topps Star Wars Super Box
7 packs per pack.
24 packs + 1 Exclusive Widevision card per box.
Each pack contains five (5) base cards and two (2) inserts. Each box contains one (1) exclusive Widevison Box Loader. Hits include Autographs and Printing Plates. 


Introducing the first-ever product from the Topps Star Wars Flagship line. While showcasing all the Star Wars content that all collectors enjoy, this product will also serve as a great introduction to the line for the new collector.
Enjoy tons of new content to collect including chase pieces like Hologram cards, rare short prints and various SKU exclusives for the more serious collectors.
BASE CARDS: Collect all 100 cards from the 2023 Star Wars base set!
Rainbow Foil (1:2 packs)
Gold Foilboard (1:3 packs) VB EXCLUSIVE
Green Foilboard (#'d to 499)
Orange Foilboard (#'d to 299)
Red Foilboard (#'d to 199)
Purple (#'d to 99)
Black (#'d to 75)
Blue (#'d to 50)
Green (#'d to 25)
Red (#'d to 10)
Hyperspace (#'d 1/1) NEW!!
SHORT PRINTS: 2023 Star Wars Chrome is filled with collectability and chase. The following cards will be printed in extremely limited runs!
AKA – Highlighting characters' aliases on very cool and unique designs
Hologram Cards – Reimagining Star Wars art into hologram cards!
INSERTS: The collectability continues when these fun new inserts!
Epic Clashes – Highlighting some of the most legendary rivalries in Star
Wars history
Lightsaber Stylings – Showcasing different types of lightsabers as
featured on TV or movie screens. Cards will be cut from print sheets by
actual lightsabers!
Comic Covers – Featuring some key comic cover art as shown throughout
the years
Into the Galaxy – Focusing on some different planets in the Star Wars
Galaxy that have been shown on-screen in some capacity
Insert Parallels:
Blue (#'d to 50)
Green (#'d to 25)
Red (#'d to 10)
Hyperspace (#'d 1/1) NEW!!
AUTOGRAPHS: Look out for rare autographs from some of your favorite actors!
Purple (#'d to 99)
Black (#'d to 75)
Blue (#'d to 50)
Green (#'d to 25)
Red (#'d to 10)
Hyperspace (#'d 1/1) NEW!!
Also look out for rare printing plates of the Base Cards and Autographs!
Sale price

$57.00

Regular price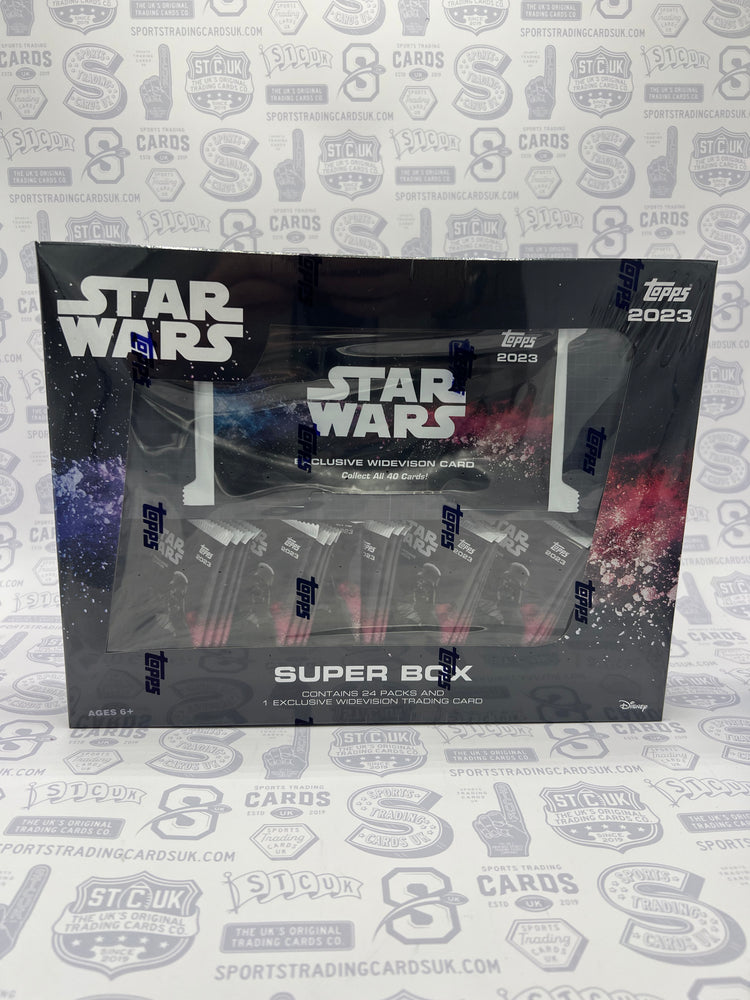 Delivery Info
Royal Mail
Spend up to £49.99
£3.49 Royal Mail 24 (approx. 2/3 days)
£2.99 Royal Mail 48 (approx. 3/4 days)

Spend £50.00 - £249.99
£4.99 Royal Mail Tracked 24 (approx. 2 days)
£3.99 Royal Mail Tracked 48 (approx. 3 days)

DHL £6.99 UK (approx. 1-2 days)

FREE UK SHIPPING for orders £250 upwards



DHL Worldwide available at checkout for international customers - cost is for shipping only, any additional customs or local taxes are not included and are the receiving customers responsibility.