Sports Trading Cards UK
2021 Panini Clearly Donruss Football Hobby Box
5 cards per pack.
4 packs per box.
Look for 1 autograph, 1 insert, 2 parallels, 8 Rated Rookies, and 8 base cards per box on average.


One of the most anticipated releases of the of the year, 2021 Clearly Donruss is loaded with all acetate autographs, parallels and inserts from the best of this year's stellar rookie class!
Look for Clearly Rated Rookie Autographs from Trevor Lawrence, Trey Lance, Justin Fields, Mac Jones and many more! Search for fan-favorite inserts and their autograph parallels in Clearly My House!, Clearly The Rookies, Clearly Out of this World and Clearly Dominant!
Chase Rated Rookie tribute cards that feature acetate re-creations from some of the most iconic rookies in the NFL's recent history from stars such as Peyton Manning, Kyler Murray, Aaron Rodgers and many more! Hunt for case hit acetate inserts in Gridiron Marvels, Night Moves and Downtown and their 1/1 Holo Platinum parallels.
BASE: Collect a 50-card all-acetate base set, which features the brightest stars from today's NFL landscape!
RATED ROOKIE HOLO: Chase a 50-card Rated Rookie checklist, which is loaded with the top talent from this year's stacked draft class!
CLEARLY RATED ROOKIE AUTOGRAPHS: Look for one of the most iconic rookie cards of all time with a bold autograph in Clearly Rated Rookie Autographs!
CLEARLY THE ROOKIES: An acetate spin on a fan favorite rookie card, look for Clearly The Rookies, as well as its autograph parallel!
CLEARLY OUT OF THIS WORLD: Be on the lookout for Clearly Out of this World inserts and its many parallels, which includes a far out autograph parallel!
CLEARLY RATED ROOKIES 2017: Paying homage to some of the most iconic rookie cards in the NFL's recent history, be on the lookout for autographs from some of the NFL's biggest stars such as Patrick Mahomes II, Dak Prescott, Josh Allen and many more in an all-new, acetate version of their Rated Rookie card!
GRIDIRON MARVELS: The NFL's biggest heroes are back and better than ever in acetate form, landing at one in every third case, on average!

NIGHT MOVES: Catch some of the NFL biggest names in another fan favorite, this time printed on acetate, in Night Moves! Odds are one in every third case, on average!
DOWNTOWN: One of the hobby's favorite SP inserts debuts in Clearly Donruss, which features creative city driven artwork behind some of the NFL's top stars!
Sale price

$294.00

Regular price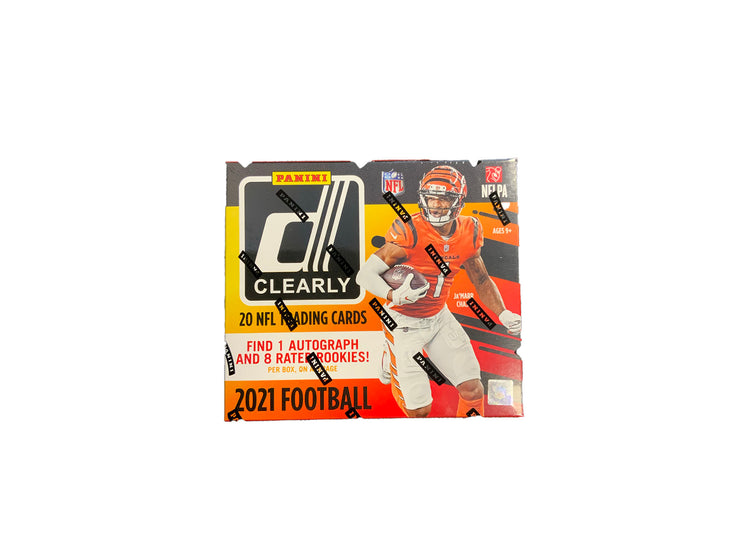 Delivery Info
Royal Mail
Spend up to £49.99
£3.49 Royal Mail 24 (approx. 2/3 days)
£2.99 Royal Mail 48 (approx. 3/4 days)

Spend £50.00 - £249.99
£4.99 Royal Mail Tracked 24 (approx. 2 days)
£3.99 Royal Mail Tracked 48 (approx. 3 days)

DHL £6.99 UK (approx. 1-2 days)

FREE UK SHIPPING for orders £250 upwards



DHL Worldwide available at checkout for international customers - cost is for shipping only, any additional customs or local taxes are not included and are the receiving customers responsibility.