Sports Trading Cards UK
Women of Star Trek Art & Images Trading Cards Box Rittenhouse 2021)
Each Box contains Three Autographs!

Signers for this enticing set include:
- Nichelle Nichols (Uhura/TOS)
- Majel Barrett* (Nurse Chapel/TOS)
- Zoe Saldana (Uhura/Movies)
- Whoopi Goldberg (Guinan/TNG)
- Sonequa Martin-Green (Burnham/Disco)
- Ashley Judd (Robin Lefler/TNG)
- Linda Park (Hoshi Sato/Enterprise)
- Mary Wiseman (Tilly/Disco)
- Michelle Yeoh (Georgiou/Disco)
- Peyton List (Narissa/Picard)
- Louise Sorel (Rayna Kapec/TOS)
- April Tatro (Isis/TOS)
- Tracy Scoggins (Gilora Rejal/DS9)
- Tig Notaro (Jett Reno/Disco)
- and many more!
*Majel Barrett signed cards were among the very last items she signed before passing away in 2008.
Also, look for Dual Autograph Cards and Hand-Drawn Sketch Cards!
72-Card Base Set, featuring characters from the entire Star Trek universe!
Exciting Bonus Cards:
- 16 Women of Star Trek Vector Art Cards
- 10 Starfleet's Finest Painted Portraits Metal Cards by Kevin Graham (#'d to 50)
- 18 'Quotable' Women of Star Trek Expansion Cards
- 24 Artists' Rendition Triple Art Cards
- 12 Women of Star Trek Archive Collection Expansion Cards (#'d to 99 each)
- Hand-Drawn Sketch Cards (approximately every other case)
- Autograph Cards (3 per box/36 per case)
- T'Pol/Enterprise (RC51) Relic Card

24 Packs Per Box, 5 Cards Per Pack
Sale price

$88.00

Regular price

$104.00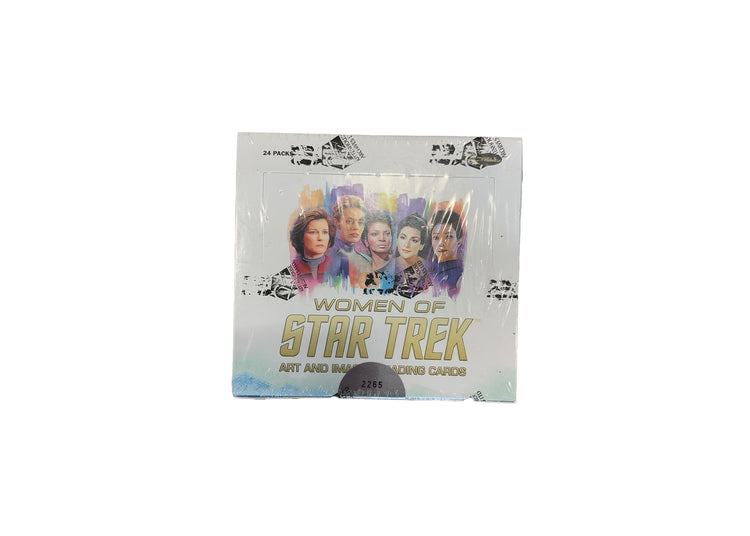 Delivery Info
Royal Mail
Spend up to £49.99
£3.49 Royal Mail 24 (approx. 2/3 days)
£2.99 Royal Mail 48 (approx. 3/4 days)

Spend £50.00 - £249.99
£4.99 Royal Mail Tracked 24 (approx. 2 days)
£3.99 Royal Mail Tracked 48 (approx. 3 days)

DHL £6.99 UK (approx. 1-2 days)

FREE UK SHIPPING for orders £250 upwards



DHL Worldwide available at checkout for international customers - cost is for shipping only, any additional customs or local taxes are not included and are the receiving customers responsibility.